A picture perfect azure sky with not a cloud to be seen heralded the first truly summer's day of the year.  The temperature already was climbing into the 20's and it was still early in the morning.
A small blue tit  is busily  having an early morning dip in the yellow bucket oblivious to the neighbour's cat who is greedily eyeing it.  But, with a shake of his feathers the blue tit departs before the cat can even think of pouncing.  Disgusted the cat creeps back underneath the shade of the of the overhanging roof to await the next bird who would dare enter the garden.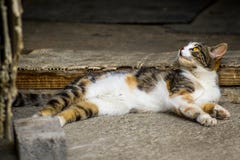 Neighbouring children are out playing, released at last from the confines of their houses.   Their imaginations running riot and soon they have found treasure or scored a goal in the world cup they are playing in.  Some have turned into princesses while others have moved Lego into the outdoors and continued to build what they have seen in their imagination.
Another neighbour is working hard preparing garden plots for the new arrivals which he has ordered and are due to be delivered.  These plots will turn into a veritable dinning table of vegetables.  Peas climbing up bamboo poles, marrows grown for autumn harvest, carrots tenderly looked after to give that sweet taste and smell to summer dinners.  The soft fruit bushes have been protected from the winter frosts and are starting to bloom, with the promise of jam in the offing.
There is the sound of music.  It is not a radio.  The music is not familiar.  A beautiful bass voice begins to sing.  Yet again the language is unfamiliar.  The chords initially sound
discordant but as the music continues, it gradually weaves itself into the life of garden suburbia.  Does this music come from central Europe?  Perhaps the Baltic?  Then again it could be eastern mediterranean.  It doesn't really matter, it is part of this summers day.
Sitting beneath a large heavy linen parasol, hands  holding one of a number of daily cups of tea the sounds cast a soothing spell.  The stresses ease as the familiar and not so familiar sounds drift on the air. Yes, a summer's day in suburbia can be just perfect.